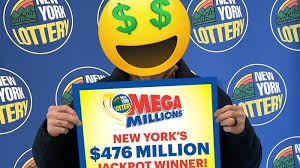 03 Sep

New York Lottery's Remarkable Winners

New Yorkers have experienced their fair share of lottery fortune for the NY Lottery, with individuals claiming substantial cash prizes in games such as Powerball and Mega Millions. One noteworthy success story is that of Johnnie Ely from the Bronx, who became the state's first $100 million lottery winner in 1999 when he struck gold in the now-retired Millennium Millions game. While that was indeed an impressive windfall, it doesn't even crack the top 10 list of the most significant wins in the state, which we've outlined below.

Top 10 New York Lottery Winners

1. Johnnie Taylor – $476 million – Mega Millions**

– Date: April 14, 2023

– Game: Mega Millions

– Johnnie Taylor, a resident of Howard Beach in Queens, secured this record-breaking jackpot by purchasing a ticket from Liberty Beer & Convenience in Ozone Park, Queens. At the time, it was the 13th largest prize in Mega Millions history, with a cash option valued at $253 million. Johnnie Taylor opted for the cash option, and intriguingly, the very next Mega Millions draw in New York also produced a winner, this time with a $20 million payout.

2. Goodtimez, LLC – $432 million – Mega Millions**

– Date: September 21, 2021

– Game: Mega Millions

– In a twist of fate, a pizza-loving New Yorker struck it rich on September 21, 2021, when a single ticket sold at Pronto Pizza on West 48th Street in Manhattan, near Rockefeller Center, matched all six numbers, netting them nearly half a billion dollars. The prize eventually found its way into the hands of a group known as Goodtimez, LLC, who chose the lump sum option, amounting to $315 million.

3. Harold Diamond – $326 million – Mega Millions**

– Date: November 4, 2014

– Game: Mega Millions

– Harold Diamond, a retired elementary school principal from Wurtsboro in Sullivan County, etched his name into the annals of New York Lottery history when he acquired a Mega Millions ticket on Election Day in November 2014. At the ripe age of 80, Harold decided to pocket the cash sum of $197.4 million, describing himself as "very blessed."

4. Seven Co-workers in Albany – $319 million – Mega Millions**

– Date: March 25, 2011

– Game: Mega Millions

– Dubbed 'The Albany Seven,' a group of colleagues from New York State's Division of Housing and Community Renewal clinched a staggering $319 million jackpot in March 2011. Their journey to fortune included an interesting encounter when one of the members, Mike Barth, had to deal with a queue jumper at Coulson's News store while buying the ticket. The group opted for the cash sum of $202.9 million, translating to over $19 million per person after taxes

.

5. Daniel Bruckner – $208 million – Mega Millions**

– Date: December 27, 2011

– Game: Mega Millions

– Financial analyst Daniel Bruckner, visiting relatives in Suffolk County, Long Island, during the Christmas season of 2011, decided to try his luck with a $26 investment in Mega Millions tickets after spotting the soaring jackpot. He and his wife chose the lump-sum prize, leaving them with $101 million after taxes.

6. 1937 Flatbush Avenue Dodgers LLC – $201.9 million – Powerball**

– Game: Powerball

– Powerball became available in New York in January 2010, and just a year later, a coalition of 20 Costco employees struck gold with a $200 million-plus win. The group initiated their Powerball pool only a month before hitting the jackpot, with members ranging in age from 24 to 73. To accommodate the large number of winners within their lottery club, they formed a trust called '1937 Flatbush Avenue Dodgers LLC' to collect the prize money, with each member receiving an equal share. The trust's moniker was inspired by member Anthony Manzolillo's past residence on Flatbush Avenue in Brooklyn and his fondness for the 1937 Los Angeles Dodgers baseball team.

7. Nancy Viola – $169 million – Mega Millions**

– Date: January 8, 2016

– Game: Mega Millions

– Nancy Viola, a homemaker from Staten Island, originally set her sights on the record-breaking Powerball jackpot in January 2016. However, she ended up winning $169 million in the Mega Millions draw instead. Her husband, stopping for tickets, purchased $20 worth of Powerball entries, along with one Mega Millions ticket using a spare $1.

8. Jimmy Groves – $168 million – Mega Millions**

– Date: August 28, 2009

– Game: Mega Millions

– Jimmy Groves from the Bronx, along with a player from California, captured a share of the $336 million Mega Millions jackpot in August 2009. He opted for the annuity, providing him with a guaranteed income of $4 million per year after taxes for 26 years, receiving a check for $168 million.

9. Richard and Mary Morrison – $165 million – Mega Millions**

– Date: December 22, 2009

– Game: Mega Millions

– Suffolk County residents Richard and Mary Morrison struck it big in December 2009, securing a substantial Mega Millions jackpot. They decided to take the cash sum of $102 million before taxes and planned to use part of their winnings to open a seafood restaurant and support underprivileged children. The couple subsequently established the Richard and Mary Morrison Foundation to provide assistance to non-profit organizations and educational institutions.

10. Juan Rodriguez – $149 million – Mega Millions**

– Date: November 19, 2004

– Game: Mega Millions

– Juan Rodriguez, originally from Colombia but a U.S. citizen since 1986, briefly held the title of the largest winner in New York Lottery history when he matched all the winning numbers in a Mega Millions draw in November 2004. Prior to his win, Rodriguez had faced financial difficulties, with just 78 cents in his savings account and $44,000 in debt to creditors. His life took a dramatic turn with this life-changing win.

These remarkable stories underscore the life-altering impact that the New York Lottery has had on the lives of its fortunate winners.